Care Instruments Diagnostics Category features a wide range of instruments used in Neuro Surgery, Such as Percussion Hammers, Sensibility Instruments, and Stethoscopes.
Most of the Instruments in this Category are used in neurological procedures and are commonly kno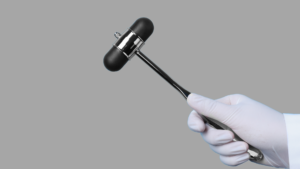 wn as Neurological and Reflex Hammer is used for assessing deep reflexes in the tendons. It helps in detecting irregularities in the central or peripheral nervous system.
Category incompases Instruments Such as:
Troemner Percussion Hammer
Riester Dejerine Percussion Hammer
Taylor Percussion Hammer
Berliner Percussion Hammer
Buck hammer
Rabiner (Babinski) Percussion Hammer
Traube Percussion Hammers
Aly Sensibility Instruments
Wartenberg Sensibility Pinwheel
Pinard Foetal Stethoscope